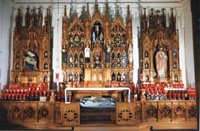 The collection of first and second class relics in this chapel total over 1,000.
The Shrine's Official Web Site
Shrine of the Holy Relics
2291 St. Johns Rd.
Maria Stein, OH

From the Catholic Telegraph
March 10, 2000 Edition
The National Marian Shrine of Holy Relics at Maria Stein began in 1875 when Father J. Gartner, vicar general from Milwaukee, entrusted his large collection of relics to the Sisters. He had obtained the collection in Rome and had been persuaded to take the items back to the Americas for veneration. At the time, graves and catacombs were being plundered for relics and other church valuables came on the market in overstocked pawnshops.


Father Gartner displayed his collection in Baltimore, Cincinnati and several other cities with the idea of dividing his collection among several churches and monasteries. Cardinal John McCloskey of New York convinced Father Gartner that his collection should remain intact.

By 1892, a new chapel was opened at Maria Stein to offer the relics for veneration. At the same time, the collection was enlarged with the addition of relics obtained by Father Francis de Sales Brunner, the first Precious Blood priest to come to America. During the years since then, other collections have been added - most notably those of Cincinnati's Archbishop John T. McNicholas and Archbishop Karl J. Alter.