I was born in Keene, NH on November 16, 1958.

I lived and was raised in Winchester, also in the Granite State. The photo to the left is the view from my first residence in Winchester although I have no memory of this since we moved to another house when I was still very young. I do remember tobogganing down this hill once and taking quite a flip at the bottom though.

Growing up in Winchester was an adventure. There were hills filled with treasures to search, rivers and brooks to fish and a great town library to explore the world beyond.



I have great memories of these years filled with boyhood wonder. I attended Winchester schools along with my three sisters and in June of 1976 I graduated from Thayer High School After a summer of work at a local grocery store, where I had worked for several years, it was off to Florida..

I moved to Jacksonville, FL in August of 1976 and enrolled at Jones College. I finished the first semester but dropped out after a couple of weeks of the second semester I guess I was sick of school, although for most of the next decade in my life I would be in school. So maybe it was good that I took the break.

About six weeks after I dropped out of Jones College I joined the Army. In March 1977 I boarded an Amtrak train in Jacksonville, FL and raced off into the night to Trenton, New Jersey to nearby Fort Dix for basic training. I survived this largely by not making myself known in one way or another.

In May I was sent to Ft. Lee, VA, located near Petersburg, Virginia. The purpose of this stint was to learn about the Army's supply system. I learned what I needed to rather quickly and after four weeks I was on my way to Texas after a brief visit to my new home in Florida.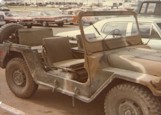 Ft. Hood, TX, is located in the heart of Texas. Since I had acquired all this knowledge about the Army's supply system the Army assigned me to drive a jeep for a Major. At the time I didn't know how to drive a stick-shift. The man given the job of teaching me to drive a jeep lost that job after he took off the windshield of the jeep and nearly my head on our way to my first driving lesson. After a rough start, I learned how to drive and enjoyed the job which gave me a certain amount of freedom to move about. After a year and half in Texas, I was sent to Germany.

I spent two weeks in Frankfort, Germany when the Army decided that I was needed in another country. Someone at the replacement center told me that Turkey was a lot like Florida (it was 29 degrees in Germany at the time). It turned out to be not a whole lot warmer in Turkey. I spent the next year of my life in a place called Cakmakli, Turkey. While there I did have a chance to travel throughout Turkey and to make a visit to the Holy Land.

Finally I finished my time in the service back in the United States in 1980 at Ft. Eustis, VA.

In August of 1980 I went back to college attending St. Meinrad College located in southern Indiana. It seems like my time in the military helped me to focus on what school and studies. I did well at Saint Meinrad and enjoyed the Benedictine environment. The college closed in 1998 but a school of Theology still operates there.. I graduated from St. Menrad in 1983 with a B.A. in Philosophy and a minor in Classical Languages and Religion. After a short stint working for Catholic Charities,

I spent the next four years attending St. Vincent de Paul Regional Seminary in Boynton Beach, FL. I graduated from St. Vincent's in 1987 with a MDiv.

I attended Creighton University in Omaha, NE from 1989-1992 and graduated with a M.A. in Christian Spirituality.

In between school I worked in several parishes in the Diocese of St. Augustine starting in 1987. I worked at St. Catherine's Parish in Orange Park, FL from 1987-1990 and Holy Faith in Gainesville, FL from 1990-1992.

In 1992 I went back to St. Vincent de Paul Regional Seminary this time as a professor. I taught courses in Theology, Spirituality and Homiletics. I also served as a spiritual director and formation advisor. My official title was Assistant Professor of Homiletics.

I moved to Central Florida in 1994 and took a job teaching theology courses at Jesuit High School in Tampa, FL. for the next four years. I spent the latter part of 1998 writing a screenplay for NBC Entertainment that was finished in January of 1999. I was paid for my efforts but evidently they have decided to let it sit in some vault of unused manuscripts.

In February of 1999 I moved to Fort Wayne, Indiana and was hired at Our Sunday Visitor Publishing as an acquisitions editor.

My wife Amy Welborn and I co-wrote "The Biblical Way of the Cross" a small devotional book published by Ave Maria Press in 1992 .

My latest book (Mention Your Request Here) The Church's Most Powerful Novenas is now available. It is a collection of novena prayers (prayers said for nine consecutive days), stories of various saints apparitions of Jesus and Mary and devotions used at Catholic shrines across the United States.