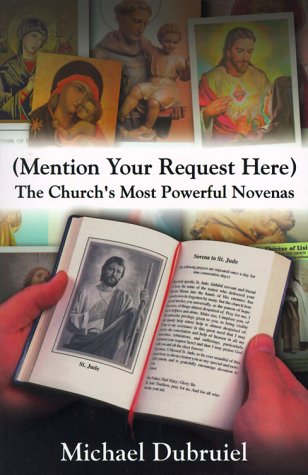 The Biblical Way of the Cross
Amy (my wife) and I wrote this devotional work as an aid for people in their efforts to connect the passion of Jesus with their daily lives. It can serve as an excellent vehicle of prayer for an individual or group. It should be read slowly and thoughtfully to be truly fruitful in prayer.


I originally sketched the meditations while making a thirty day retreat in Auriesville, NY. Amy who was at that time a syndicated columnist, added her own meditations to mine which we later wove into the present text


(Mention Your Request Here) The Church's Most Powerful Novenas

A collection of novena prayers used at US Catholic Shrines.
Father Benedict Groeschel describes in the Foreword how religious devotion is enjoying resurgence and in particular the use of novena prayers is making a comeback as we enter the Third Christian Millennium.

This book is a collection of the Catholic Church's most powerful novenas. Each novena entry includes an image associated with the devotion, a history of the devotion, the novena prayers, a description and history of the Catholic Shrine along with its location and web site (if the Shrine has one).